Description
Written by Raj Shah
llustrated by Kamlesh M. & Natasha S.
Holi Hai!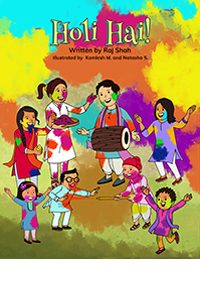 Holi Hai! explains why Hindus celebrate Holi, the festival of colors all around the world in the spring season. The book helps children living in America the universal message of the victory of good over evil. In Holi Hai!, Hindu children learn this valuable lesson along with Hindu rituals and traditions while having fun with their friends. The Holi celebration consists of traditions such as lighting a bonfire and burning Holika, the evil sister of Prahalad. Celebrations end with all, young and old, playing with water balloons and dry color powder.
This colorful book also explains the ancient story of Radha and Krishna and why they celebrated Holi.
As with every Hindu festival, celebrations always end with lots of delicious food, music and sweets!
ISBN: 978-0-9642962-3-7
We love Diwali!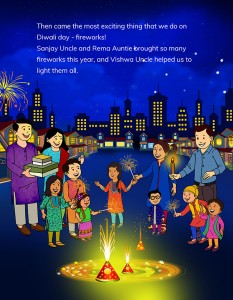 We love Diwali! takes you inside the homes of families living in America where Hindus, Jain and Sikh children together celebrate Diwali, the festival of lights.
In their own words, the children take turns explaining the different customs and traditions celebrated by Hindus, Jains, and Sikhs during Diwali.
The children gather together to participate in a Diwali pooja and are especially excited because this is one day when they perform the rituals rather than their parents!
Of course, no Indian festival is complete without delicious food, so the children end the day by eating Diwali mithai (sweets) and by lighting fireworks.
ISBN: 978-0-9642962-1-3
Welcome to our Beautiful Mandir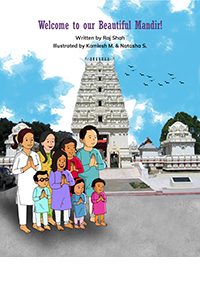 The mandir or the temple is not just a sacred place for the Hindus, but is also a ground for learning. While children find great joy in visiting the mandir, they also learn about the principles of Hinduism in simple ways. This story helps us all understand the basic ideals of Hinduism through the eyes of children.
ISBN: 978-0-9642962-6-8
The Complete Ramayan in 100 Tweets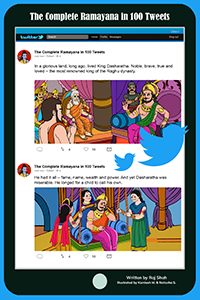 The Ramayana is among the greatest of Hindu epics. However, it is also a wonderful story for all children as it is interesting and filled with events, and also has plenty of lessons to teach. In keeping with the times and the trends of the millennium, we bring the story of Rama in a simplified form for children to understand, presented as 100 tweets that encapsulate the most important moments of the story.
ISBN: 978-0-9642962-5-1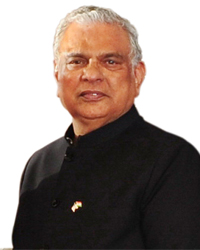 About Raj Shah
A software engineer by profession, Indian culture enthusiast, ardent promoter of Hinduism, and a cancer survivor, Raj Shah is a very positive and forward thinking person. Living in the United States since 1969, he considers the US as his Karmabhoomi, but does not forget his Mathrubhumi India even for a minute.
Promoting the rich culture and heritage of India and Hinduism has been his motto ever since he arrived in the US. Keeping those principles in mind he co-founded an organization – the VIP (Volunteers of India's Progress) Club in Clifton, New Jersey, in 1972. Since then, he has been instrumental in promoting several community organizations. He serves as a Chairman of Board of Directors, Hindu University of America, South Florida campus.
Raj has written several articles on wide variety of subjects like, Hinduism, Indian culture, Hindu wedding and Indian Festivals. He has also written two books titled, Chronology Of Hinduism – Documenting the History of the World's Oldest Religion and Understanding Hinduism – The Basic Facts about Hinduism and Frequently Asked Questions. He has also written a few Children's books, Holi Hai, The Complete Ramayana in 100 Tweets and Welcome to my beautiful Mandir.
Grand dad of four lovely grand children, Raj is a family man and strongly believes in the old Hindu concept of Vasudhaiva Kutumbakam – "The whole world is one family."
You can follow Raj Shah on Facebook at https://www.facebook.com/rajshahusa.
To set up an interview or a book reading and signing, please contact Raj Shah